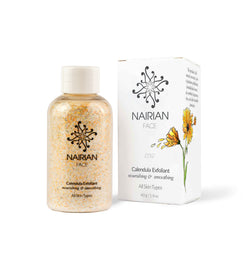 Calendula Exfoliant
Nourishing & Smoothing
Rediscover nourished and smooth skin with this delicate scrub. The montmorillonite clay will help your skin to detox, while Oat and Calendula will nourish and calm it. Nairian's special formula for sensitive and allergy-prone skin gently removes dead skin cells, excess oil, dust and makeup residues, as well as all possible toxic substances.
Enjoy a two-in-one effect, as this nourishing scrub can also serve as a face mask.
The Calendula Scrub is ideal for allergy-prone  and sensitive skin.
In your palm mix a small amount of scrub with a squeeze of Nairian Cleanser, or a few drops of water or botanical oil. Gently massage into skin, and then rinse away. Avoid using around the eyes or on damaged skin.
You can use this scrub as a mask, by leaving the mix on the face for several minutes before washing it away. The scrub can be used once or twice a week. For best results use Nairian Toner and Moisturizer afterwards.
Oryza sativa (Rice) Powder, Calendula Officinalis (Calendula) Petal Powder*, Montmorillonite Clay, Daucus Carota (Carrot) Root Powder, Avena Sativa (Oat) Kernal Powder, Althaea Officinalis (Marshmallow) Flower Powder, Mentha Arvensis (Wild Min) Leaf Powder.
*Certified Organic Ingredients